Cloud[8]Sixteen, Inc., is pleased to have had the opportunity to donate to the 3rd annual Mother & Me Tea, a fundraising event that occurs on Mother's Day weekend and that benefits the Saint Louise House. This year, the event took place on Saturday, May 10th at Green Pastures restaurant and honors the accomplishments of all mothers, while also raising money for an important charitable organization.
The Saint Louise House has been providing housing and comprehensive support services to homeless women and children throughout Central Texas since 2000, and helps residents work to achieve financial stability and long-term success. Since its creation, the organization has helped over 144 families and 292 children. Cloud[8]Sixteen, Inc., is honored to have had the opportunity to donate to such a worthy cause.
---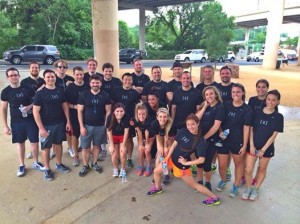 This past Friday, 34 members of the Cloud[8]Sixteen family participated in a 5k run at Austin's beautiful Town Lake in order to raise money for March of Dimes. For every person that finished the race, the company donated $25, for a total of $850 donated to the organization. The entire Cloud family was excited to have the opportunity to participate in this event and raise money for such a worthy cause.


---
Cloud[8]Sixteen is proud to have helped sponsor Team Trace in The Leukemia and Lymphoma Society's Man of the Year fundraising competition for the Austin area. Trace Hight was awarded runner-up in the annual competition after raising more than $45,000 for the organization's leukemia and other blood cancer treatment research.
The Leukemia and Lymphoma Society's Man and Woman of the Year competitions are carried out in communities across the country every year in order to help raise funds for awareness of and research for blood cancer. Every dollar a candidate raises counts as one vote, and at the end of a ten week period, whoever has the most votes in their community earns the title of Man or Woman of the Year.
At Cloud[8]Sixteen, we are always happy to be able to give back to our community however we can, and we extend our congratulations to Trace and his team for their success in this year's fundraising event.
---