Austin Business Journal's ranks Cloud[8]Sixteen,Inc. #9 for Marketing and Advertising Agencies in Austin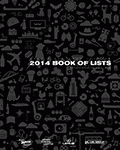 The entire team at Cloud[8]Sixteen, Inc. are proud to announce our inclusion on the Austin Business Journal's "Book of Lists" for 2014. The publication ranks businesses in different categories each year, and this year we are thrilled to note that we made #9 on the list of Best Marketing and Advertising agencies in Austin.
Many thanks to the folks at Austin Business Journal for including us, and we are looking forward to another exciting year.