The team at Cloud[8]Sixteen, Inc. is honored to once again make the list of "Best Companies to Work For In Texas" for 2017. This year, we are proud to announce our inclusion on the prestigious list, taking 21st place in the small employer (15-99 U.S. employees) category. The inclusion on the list marks the eighth year in a row that the company has been recognized as one of the state's best companies to work for.
The yearly list is announced by Best Companies Group, an independent research firm that is dedicated to "identifying and recognizing great places to work".  Through their research and employee feedback, they make their decisions and award the companies accordingly.
The entire list is below, and you can view the Best Companies site here:
2017 "Best Companies to Work for in Texas"
SMALL EMPLOYER CATEGORY (15-99 U.S. EMPLOYEES)

Rank

Trade Name

1

ATKG, LLP

2

5

3

University Title Company

4

The Steam Team Inc.

5

Elevate Healthcare Consultants

6

Longnecker and Associates

7

Trenegy, Inc.

8

Cody Pools, Inc.

9

Mobius Partners, Inc.

10

LiquidAgents Healthcare

11

The REACH Group Americas

12

Lloyd Gosselink Rochelle & Townsend

13

Beaird Harris

14

Quadvest

15

Workforce Solutions of Central Texas

16

MiddletonRaines+Zapata, LLP

17

Award Solutions, Inc.

18

Service City Electric

19

K2Share, LLC

20

CalTech

21

Cloud[8]Sixteen, Inc.

22

Harbor America

23

ATCHLEY & ASSOCIATES, LLP

24

Praxent

25

FrogSlayer LLC

26

WPT Power Corporation

27

The Albert Companies

28

Far West Capital

29

CAPSHER Technology, Inc.

30

Headspring

31

Iscential

32

WebCE, Inc.

33

Y&R Austin

34

The Medicus Firm, INC.

35

Banker's Toolbox, Inc.

36

Fidelis Companies, LLC

37

thirteen23

38

Vista Bank

39

Capitol Home Health

40

Better Business Bureau
We are proud of this accomplishment and if you are interested in joining the team at Cloud[8]Sixteen, Inc., be sure to take a look at our careers page for open positions!
---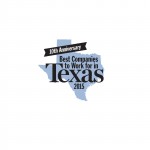 The entire team at Cloud[8]Sixteen, Inc., is proud to announce that we've been named one of the Best Companies to Work for in Texas for the 7th consecutive year. The statewide survey held by Texas Monthly, the Texas Association of Business, Texas SHRM and Best Companies Group, recognizes and honors the 100 best places of employment in Texas, and we have been distinguished as one of the 2015 Best Companies to Work for in Texas.
The methodology used to determine who makes the Best Companies to Work for in Texas list includes a two-part survey process, featuring an evaluation of each company's policies, systems, philosophies, practices, and demographics, followed by an employee survey used to measure the overall employee experience. These combined scores determine the final rankings, with the employee experience survey accounting for 75% of the overall score.
The top 100 companies in Texas will be honored at the Hyatt Regency Austin on March 31, 2015, where the full list of final rankings will be revealed. Cloud[8]Sixteen, Inc., will also be included in the Texas Monthly special publication that spotlights the Best Companies to Work for in Texas.
---